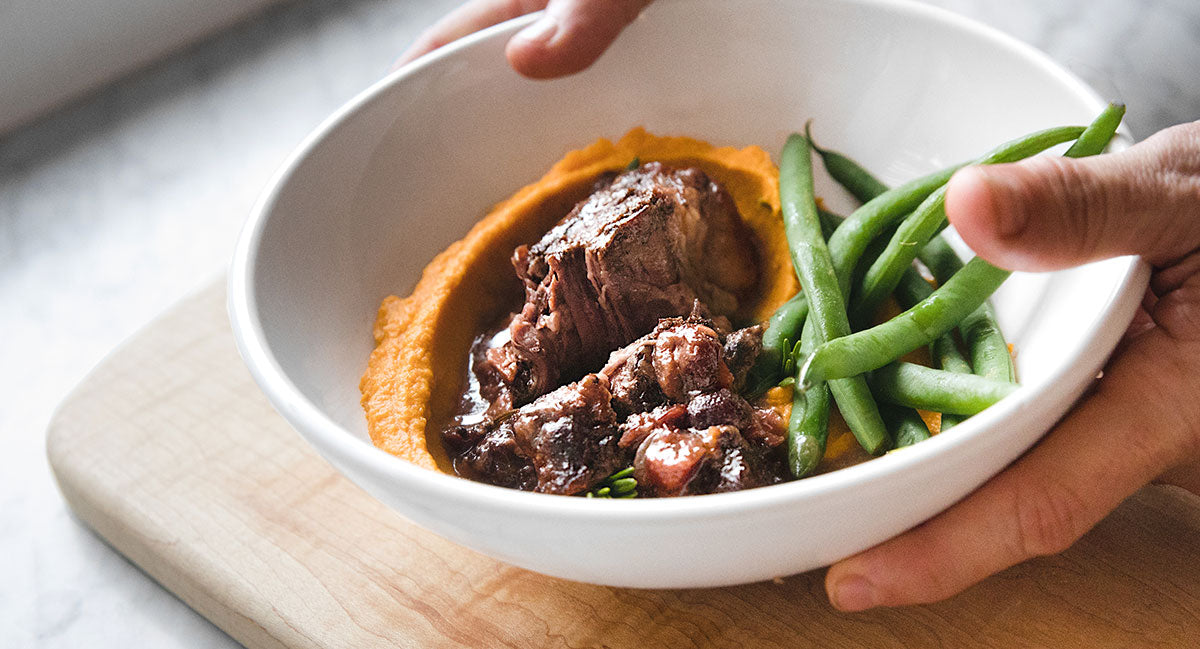 Let's celebrate our nordicity!

One of the greatest simple pleasures with which we like to reconnect during the cold season is to come home while a dish is gently simmering. The aromas of a comforting dish that perfume the house and give the taste of gathering with family or friends around a good meal, that's very reassuring :)



We offer you with JM_cuisine to take advantage of the winter season with this unifying dish inspired by a great classic of Quebec cuisine: the braised blade roast. This modest piece of meat will gain in nobility thanks to the mixture La pincée Boisée. Give it a special, slightly boreal treat by gently simmering it in a sauce made with red wine, cranberries, balsam fir and juniper berries. The whole table will enjoy it and its members will realize that they love winter much more than they thought!


Ingredients
· 1.5 to 2kg beef blade roast at least 5cm (2in) thick
· salt to taste or
La pincée Classique Nº1
· 1/4 cup flour
· olive oil
· 1 C. tablespoons
La pincée Boisée (limited edition)
· mirepoix (1 onion, 1 large carrot, 1 stalk of celery, diced)
· 1 small head of garlic, peeled and minced cloves
· 2 sprigs of balsam fir (or rosemary)
· 1 C. tablespoons juniper berries, crushed
· 115g dried cranberries (no added sugar)
· 2 cups of red wine
· 2 cups of veal stock

The how to...
Preheat the oven to 350°F. Salt the blade roast of beef and spread the flour on a plate. Flour the meat on both sides. In a heavy-bottomed casserole or Dutch oven, heat a quantity of oil over medium-high heat and brown the meat for 5 minutes on each side without moving it too much to allow caramelization. Remove to a plate and spread 1/2 tsp. La pincée Boisée mixture on each side of the roast. Press well with hands. Put aside.

In the same pan, add a little oil if necessary and brown the mirepoix. Cook, stirring, until the vegetables start to brown. Add the minced garlic, fir (or rosemary) and crushed juniper berries. Continue cooking for 2 minutes, stirring. Then add the cranberries and add the red wine. Allow to reduce slightly, deglazing the bottom of the pan well.

Put the piece of meat back and pour the veal stock. Bring to a boil. Once the boiling point is reached, turn off the heat, cover and bake. Braise gently in the oven for 3 hours or until the meat flakes with a fork.

Serve the braised beef and sauce with mashed sweet potatoes and a green vegetable of your choice. Finish with a small pinch of La pincée boisée mixture.

Makes 4 to 6 servings


Note
Anything cooked with rosemary is cooked with balsam fir needles. They are used fresh or dried, whole or chopped, to flavor stews, dumplings, sauces and marinades. Their resinous aroma goes perfectly with red meats and game. Have you ever dared to cook your Christmas tree? This is the perfect opportunity to try it out! No tree on hand? Do not prevent yourself from making this recipe by simply replacing it with rosemary.

For a more homogeneous sauce, it is possible to mix the sauce a little using a blender after having delicately removed the piece of meat and the sprigs of fir or rosemary from the casserole.

Many thanks to Jonathan Michaud @jm.cuisine.blog for the recipe!
Pictures : Francois Maisonneuve & Jonathan Michaud
---