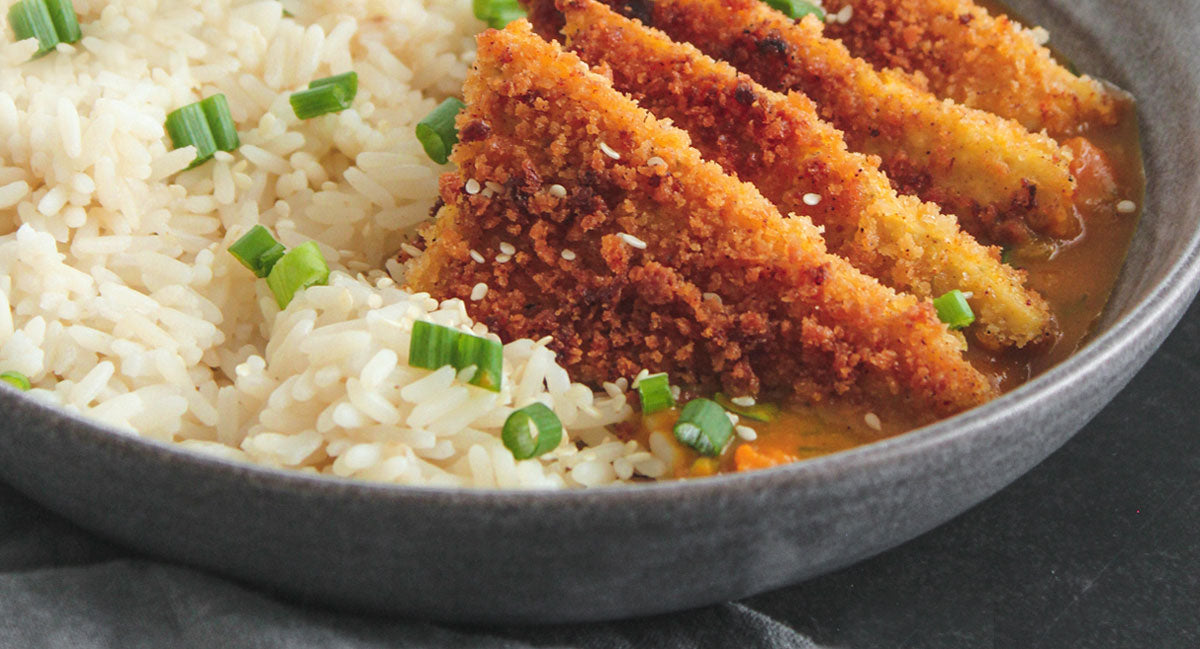 Do you know curry katsu?

A typical Japanese dish usually served with a breaded pork cutlet on a bed of Japanese white rice. Here is a new version revisited by Sara Girard from Ma cuisine de tous les jours.


A delicious vegetarian variant that replaces the pork with a breaded and crispy Tofu steak, paired with our La pincée Bombay Nº11 spice mix. A flavorful and colorful curry that could definitely become a classic on your menu!


Ingredients :
1 lb (454 g) firm tofu, cut into triangles
Vegetable oil, in sufficient quantity (to brown the tofu)
Blend 1
1/3 cup all-purpose flour
· 1 C. os La pincée Bombay N°11
Salt and black pepper, to taste
Mix 2
1/2 cup vegetable drink
Salt and black pepper, to taste
Mix 3
1 1/3 cup panko breadcrumbs
· 1 C. paprika
A pinch of cayenne pepper
Salt and black pepper, to taste
For the curry
2 tbsp. vegetable oil
1 onion, finely chopped
2 cloves of garlic, finely chopped
1 large carrot, unpeeled and diced
1 medium sweet potato, peeled, diced
· 1 C. of La pincée Bombay N°11
1 can 400 ml coconut milk
1/2 cup vegetable broth
· 1 C. tomato paste
· 1 C. maple syrup
· 1 C. lime juice
Salt and black pepper, to taste
1 cup spinach (compacted), chopped


The instructions...
Cut the tofu into slices then cut each slice in half diagonally (to obtain triangles). Divide the 3 mixtures into 3 different bowls. Dip each piece of tofu in mixture 1, 2 then 3, pressing well with your hands so that the breadcrumbs adhere to the tofu. Repeat the operations then heat a large frying pan with vegetable oil over medium heat. Brown the tofu on each side for 2 to 3 minutes. Set aside then repeat the operation (if there is any tofu left).

For the curry

To cut the vegetables. Heat a large deep frying pan with oil over medium heat then sauté the vegetables for 2-3 minutes. Add the spice mix La pincée Bombay N°11 then coat. Then pour the coconut milk, vegetable broth, tomato paste, maple syrup, lime juice then salt and pepper to taste. To mix together. Continue cooking, partially covered, over medium-low heat for 10 minutes or until the vegetables are tender.

Pour half of the curry mixture into the blender then pulse until smooth. Return to the saucepan, add the spinach, stir and continue cooking for 2 minutes. Serve the curry with white rice.

Yield: yields approximately (4-5 servings).

Enjoy your food !

Many thanks to Sara Girard from Ma cuisine de tous les jours for the delicious recipe!
---