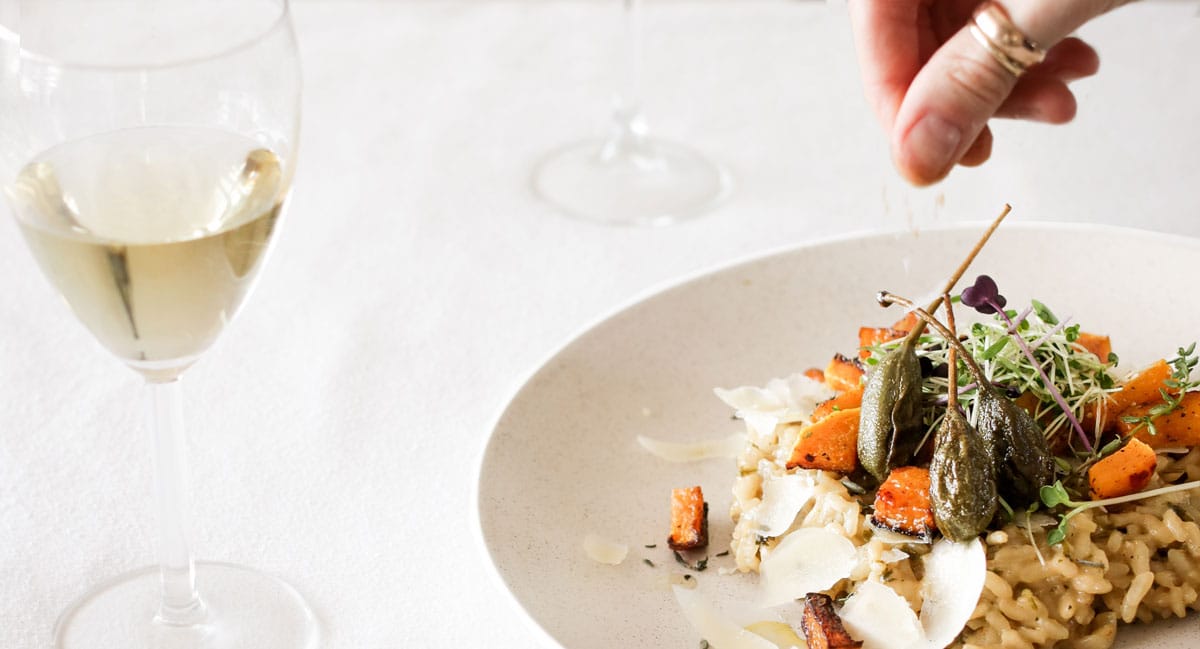 Risotto remains a great classic in Italian cuisine. Some people think that the method of making it is complex. But it's really quite simple. You just have to be patient, and add the broth sparingly.


Besides, why buy a commercial broth when you can make your own vegetable broth with broccoli stalks, stale herbs, garlic and tomato hearts, celery heads...? No waste here!


So, by using a homemade broth that is unsalted, or almost so, it gives us a good reason to season our dish with
our Quebec Maple Sugar Barbecue spice blend. Its slightly sweet notes are a perfect match for the saltiness of the parmigiano reggiano.


---

What you need for (4 to 6 servings)

For the butternut squash:
- 3 cups diced butternut squash
- 1 ½ teaspoon of La pincée Barbecue Maple Sugar
- 3 tablespoons of olive oil
For the capers (about 3 per serving):

- About fifteen capers
- 2 tablespoons of olive oil

For the risotto:

- 2 cups Arborio rice
- 3 finely chopped French shallots
- 3 tablespoons butter
- 1 cup white wine
- 6 cups hot homemade vegetable stock
- ½ cup finely chopped curly parsley
- 2 or 3 sprigs of thyme
- 1 cup grated Parmigiano Reggiano
- Parmigiano Reggiano shavings
- Green sprouts (here, here we used spicy micro sprouts, a mixture of broccoli, purple radish and coriander)
- Salted herbs from the Lower River
- La pincée Poivrée Nº2 (to taste)


---

The how to
For the butternut squash:

Preheat the oven to 450°F.

Mix the diced squash with La pincée Barbecue Maple Sugar and olive oil. Spread on a baking sheet and bake for about 15 minutes. Stir every 5 minutes so that all sides are toasted.

For the capers : Pat the capers dry with a dry cloth.

Over medium-high heat, heat the olive oil. Add the capers. After about 1-2 minutes, flip them with tongs when the side down is toasted. Remove from fire. Set aside.

For the risotto : In a large skillet, over medium-high heat, melt 2 tablespoons of butter and brown the French shallots. Add the rice and stir for 1 minute to mix well.

Over medium heat, add the last tablespoon of butter and deglaze with half the white wine until the rice has absorbed the liquid. If you have old parmesan crusts, incorporate them with the white wine. Add the sprigs of thyme. Pour the rest of the wine. Continue with the hot broth, adding ½ cup at a time while stirring. Once the broth is fully incorporated, about 20 minutes, the rice should be al dente and creamy.

Off the heat, stir in the grated cheese.

Taste, pepper and adjust as needed with Herbes Salées du Bas-du-Fleuve.

Serve on plates using the quenelle technique. Add the diced squash, shavings of parmigiano reggiano, thyme leaves, microgreens and fried capers.

Sprinkle with La pincée Barbecue Maple Sugar.
Enjoy!
---

You will need La pincée maple sugar Barbecue blend to make this recipe:

---