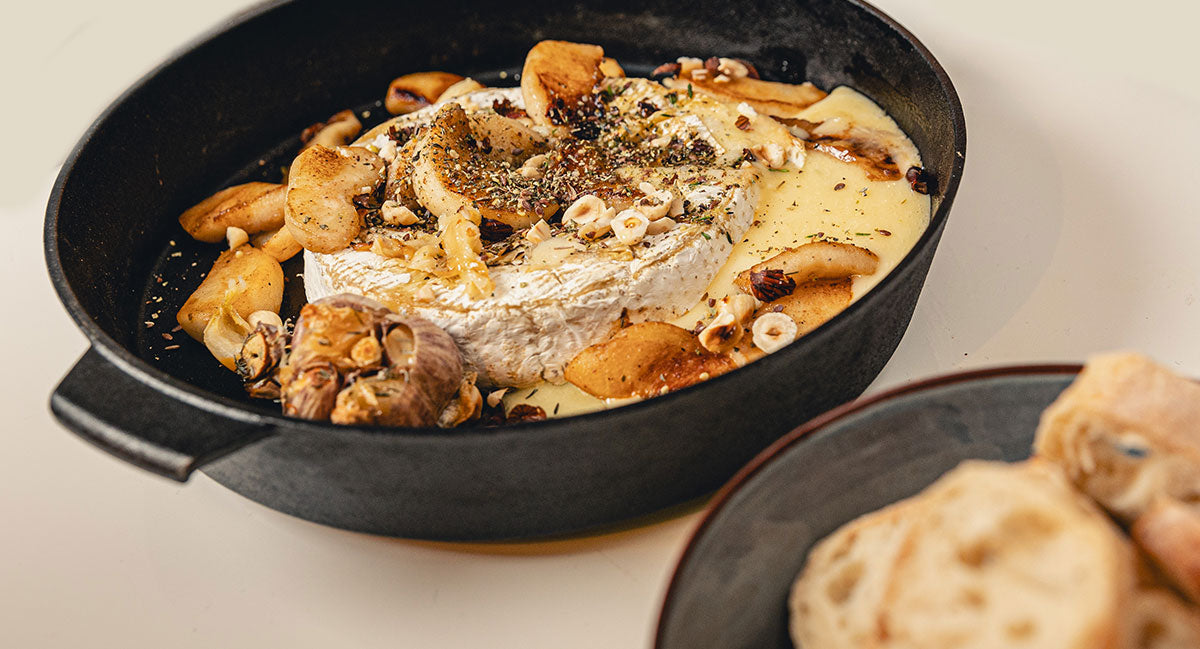 Here is a gourmet starter contrasting creamy and crunchy textures with a sweet and salty taste, enhanced with the caramelized and fruity scent of honey, candied garlic and fresh notes of garden herbs.


A few weeks ago, we went to discover the neighborhood cheese shop Anne et Frères in Villeray. A charming boutique on Jarry Street, overflowing with discoveries. The shop is run by Anne and her brother François, the cheesemongers who will guide you. Not only does their counter hold an impressive variety of fine cheeses from here and abroad, but the gourmet side stands out with selected products to enhance appetizers, brunches, or raclette dinners. We also discovered the honey from Liaison, a local company created by Valérie Archambault, a beekeeper, whose mission is to showcase the rich Quebec floral heritage by offering a fine selection of honeys to accompany local cheese from Quebec.

As new encounters inspire us, it didn't take much to make us want to imagine a recipe for creamy and gourmet Brie that brings together our three expertise areas, which complement each other and give you the opportunity to visit your neighborhood cheese shop!

An easy recipe to make and share with friends, developed in collaboration with the Anne et Frères and Liaison.


Ingredients
· 1 500g Farmer's Brie
· 2 heads of Quebec garlic
· 2 tablespoons of olive oil
· 2 peeled, cored, and quartered apples
· 2 tablespoons of unsalted butter
· 1/4 cup of roasted hazelnuts
· 2 tablespoons of Liaison ruity-floral honey
· La pincée Été N°7 with garden herbs




The how to...
Preheat the oven to 350°F. Remove the cheese packaging and place it in an oven-safe dish. Using a paring knife, make small incisions on the top of the cheese to lightly score the rind. Do not cut too close to the edges. Peel the outer skin of the garlic heads that you want to keep whole. Cut the top off to expose the cloves. Place the garlic in aluminum foil and shape it into a packet. Drizzle a generous amount of olive oil over each clove. Seal the foil and place it in the dish next to the Brie. Bake for approximately 20 minutes. To check if the cheese is hot enough, gently shake the baking dish. You should see the center of the Brie move slightly, similar to an undercooked cake. Check the garlic's doneness. If it's not sufficiently caramelized and very tender, continue baking for 10 more minutes.
The topping
While the Brie is in the oven, dry-toast the hazelnuts in a skillet. Pay close attention and stir frequently to avoid burning them. Remove, coarsely chop, and set them aside in a bowl. In the same skillet, melt the butter and sauté the apple quarters. When they are tender and well caramelized, remove them and add them to the toasted hazelnuts. Add a drizzle of Liaison honey and La pincée Été Nº7 herb blend, and mix well. Squeeze each garlic clove lightly and add it to the mixture.

When the Brie is ready, pour the topping on top and enjoy with fresh bread.

Featured in this recipe: Brie Paysan from the Presbytère cheese factory, Honey L-112 Fruity l Floral from Liaison and La pincée Été N°7.



Many thanks to Anne Gauvreau-Sybille of Fromagerie Anne et frères and at Valérie Archambault from Liaison , accompanying honeys
Pictures : François Maisonneuve · La pincée
---
You will need
La pincée Été Nº7
to make this recipe.