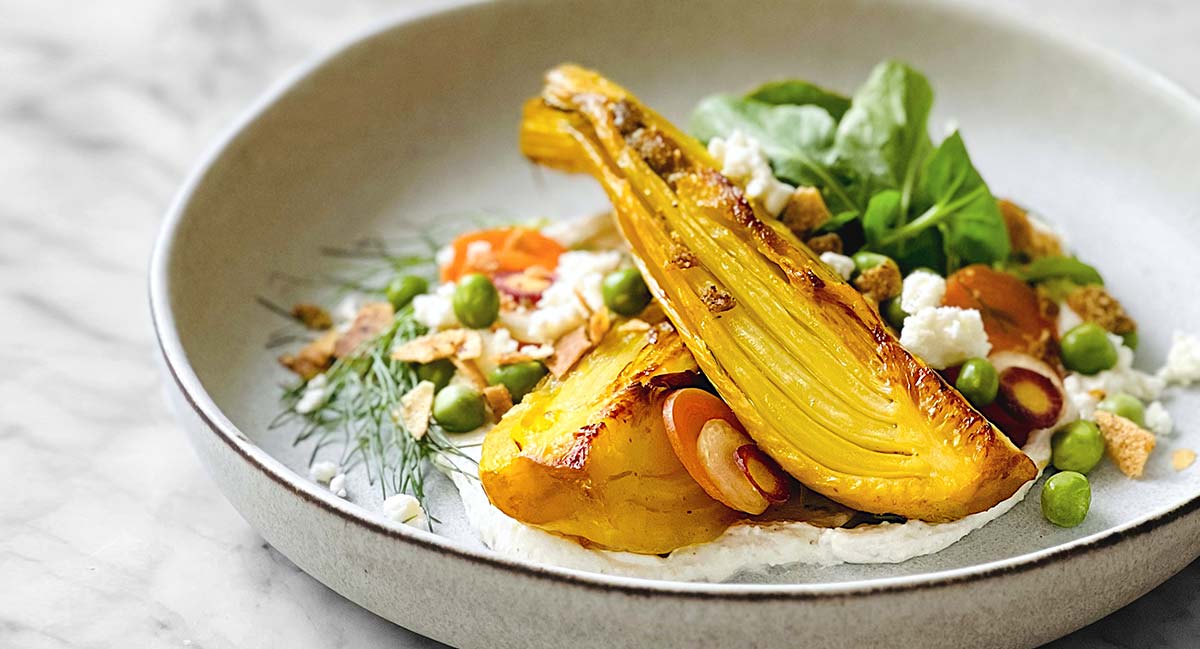 To find comfort in vegetables!

Prove anyone wrong who claims that vegetables can't be comforting. Often enjoyed raw, fennel holds delightful surprises when slow-cooked. This vegetarian dish, gently simmered in fragrant and perfectly spiced broth, then caramelized in a pan, has the power to warm you up in this autumn season.


To counter the shortening days, this fennel will undoubtedly bring a lot of sunshine to the dark November evenings. Pair it with creamy whipped feta and some homemade pita chips, and you're in for a delightful marriage of temperatures and textures.


Ingredients for the fennel
· 2 whole fennel bulbs
· 1L of chicken or vegetable stock
· 1 pinch of saffron
· 1 C. teaspoon cumin seeds
· 1 C. teaspoon ground turmeric
· 1/2 tsp. 1/2 tsp. La pincée Pimentée (limited edition)
· salt and pepper
· olive oil


Ingredients for whipped feta
· 250g (about 1 cup) ricotta
· 50g (about ¼ cup) natural yogurt
· 100g (2/3 cup) feta, coarsely crumbled
· juice of ½ lemon
· salt and pepper


The ingredients for the filling
· 50g crumbled feta
· 1 handful of watercress or rocket leaves
· ½ cup blanched peas
· a few thin slices of carrots
· fennel fronds
· some homemade or store-bought pita chips (see note)

The how to
Place the whole fennel bulbs in a saucepan. Add the spices, including La pincée Pimentée (limited edition) , and pour in the broth. Season with salt and pepper. The bulbs should be submerged at least 3/4 of the way. Bring it to a boil. Then, reduce the heat and simmer very gently for 2 hours. Turn the fennel over during cooking. If the liquid evaporates too much, add a little water. Once the cooking is done, let it cool almost completely.

While the fennel is cooking, prepare the whipped feta. Place the ricotta, yogurt, and feta in the bowl of a food processor. Add the lemon juice and season to taste. Blend until you achieve a smooth and silky texture. Keep it chilled.

Cut the cooled braised fennel bulbs into quarters. In a large non-stick pan, heat a bit of olive oil and lightly roast the fennel quarters over high heat.

For serving, spread a portion of whipped feta, then place two pieces of braised fennel. Garnish with watercress, fennel fronds, carrot slices, peas, and crumbled feta. For added texture, crumble a few pita chips and finish with a sprinkle of La Pincée Pimentée blend (limited edition).

Serves for 4 people


Notes
It's interesting to play with textures for this dish. To add crunch, pita chips are a great choice. To make pita chips yourself, refer to the recipe instructions by clicking here .


Many thanks to Jonathan Michaud jonathanmichaudcuisine.com for the recipe!
Pictures : Jonathan Michaud
---